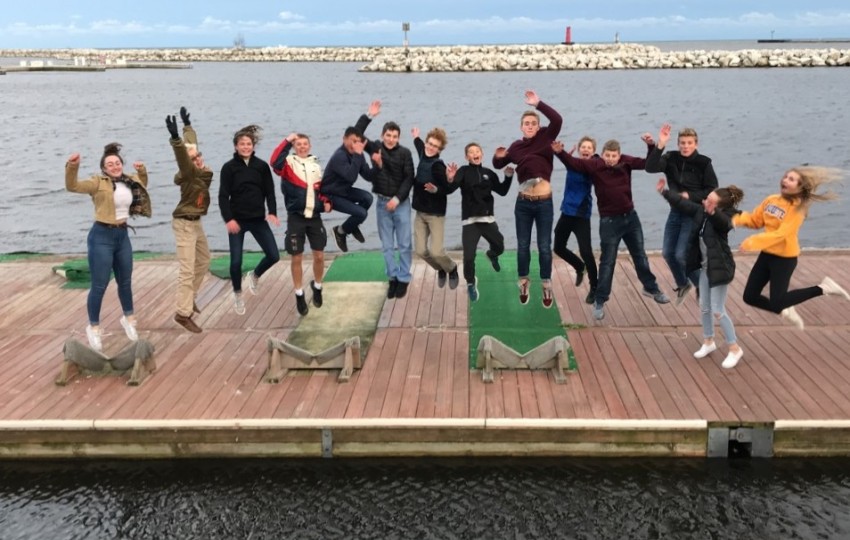 It was another great fall season for high school sailing here at SYSC, and our first fall semester as a co-ed Varsity team at Sheboygan North High School. There were 20 members this semester, with sailors hailing from North High School, Urban Middle School and Kohler High School.
The season began late August and ran through November 1st, during which the sailors practiced three days a week and competed on the weekends. The team competed in two events in Pewaukee (Fall Scramble and Dusty Waters), a clini-gatta in Madison, WI and one event each in Lake Forest, IL (the Halloween Spectacular) and Holland, MI (Junior Olympics). We attempted to host a JV-level scrimmage in Sheboygan, but racing was cancelled due to high winds and cold temperatures, though our sailors made it out for a bit of practice! During these events, the team showed continuous improvement, working up the rankings to be one of the more competitive teams in the Midwest conference (MISSA). You can find the results from the season here: scores.hssailing.org.
High school sailing makes sailing a team sport by combining the scores from two divisions of sailors from the same team and allows sailors to rotate in and out. This allows more people on the water and emphasizes consistency throughout the weekend. The races are short, around 18 minutes long, providing sailors plenty of opportunities to improve over the course of an event. Some events allow teams to consist of sailors from a variety of schools and some are closed to only sailors from the same school - these are typically qualifying events. The Sheboygan High School Team competes in both types of events on a consistent basis!
Thank you to all of the parents who volunteered their time to coordinate and drive to events, supporters on the lakefront who provided cold-weather sailing gear and cheered us on and SEAS for the use of their boats and van at events. We are looking forward to continuing the growth of our young team and we are open to students from any school in Sheboygan County. If you have questions or want more information, check out our page here or send us an email at hsteam@sheboyganyouthsailing.com!
---
Related Posts