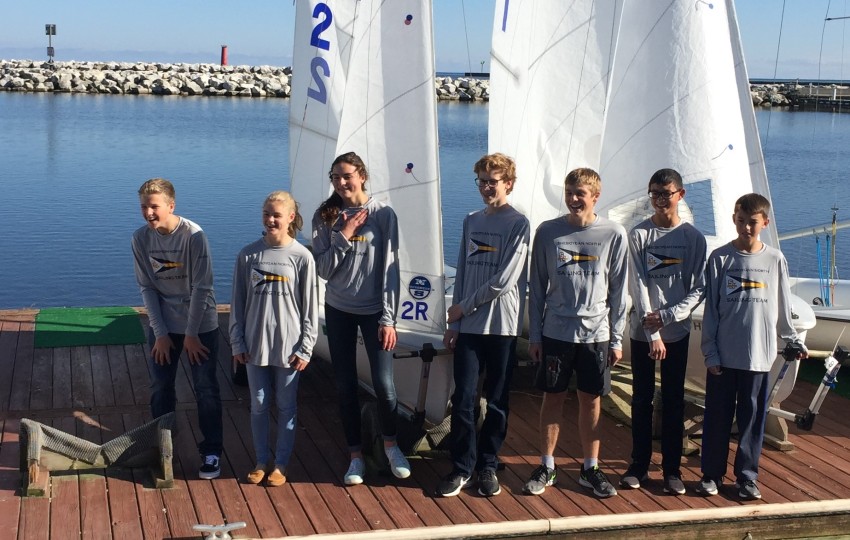 Fall 2017 brought something completely new and exciting to SYSC - a High School Sailing Team. After a brief pilot run in Fall 2016 and Fall 2017 with a few enthusiastic high schoolers from Kohler High, Warriner and Sheboygan North High, the team was officially kick-started this fall.
What does our 'High School Sailing' program entail? The team is a group of co-ed sailors from 7th to 12th grade who met twice a week - Mondays and Wednesdays - after school at SYSC to spend a couple of hours on the water practicing. They sailed primarily 420s - the most common boat sailed in the High School circuit - but occasionally Lasers and our new RS Feva made it out on the water too.
What were they practicing for? Regattas! The team competed in three regattas and one clinic over the course of the Fall and showed significant improvement at each event. They raced in fleets of 25+ boats on inland lakes, which provide shifty and flat conditions - very different from the typical day on Lake Michigan. Their results showed their improvement, sailors moving up the rankings at each event and ending the season with a 1, 2 finish in the final race at an Advanced High School Racing Clinic in Madison, WI!
Our High School Team has become the most exciting group of young sailors at SYSC and they will be hitting the water once again in the spring. It provides an affordable, fun and unique sport for middle and high schoolers in Sheboygan. Watch for the sailors this offseason while they promote and their team and recruit new members!
If you have questions or would like to know more about joining the team, find out more information here or email us at hsteam@sheboyganyouthsailing.com.
---
Related Posts