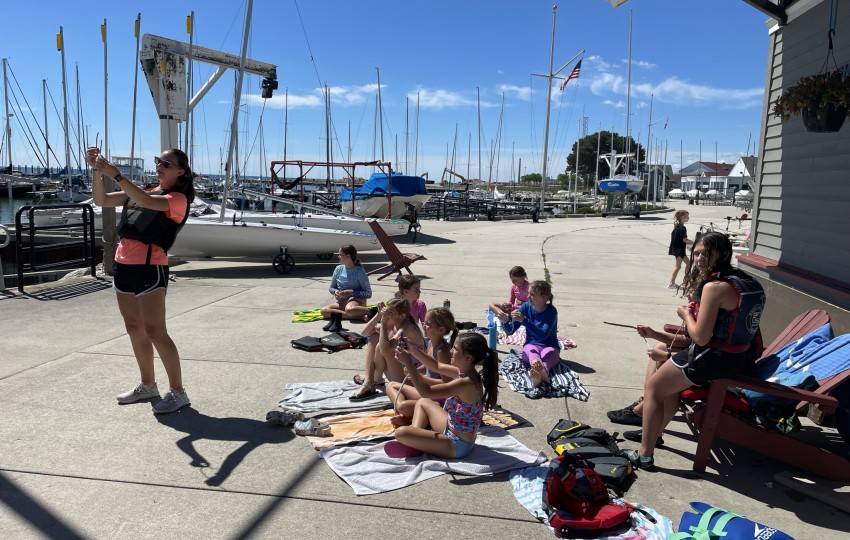 This season was our best year yet! We've said that every year for quite awhile now, and it's been true every time. Rewind all the way back to early March – we were hard at work with some building improvements for the season. We added to the building's safety with a more non-slip flooring solution and our instructors showed off their talents with some better storage solutions and murals.
For our spring season, we welcomed back a great group of High School sailors who got on the water in late March to kick things off. We travelled to six different regattas in four different states! The highlight was probably the Minnetonka Team Race event, where we were able to field two teams of six sailors each. Fun was had by all, especially in the 'Sheboogy Showdown', where our two teams competed head-to-head. All is fair in love and sailing, and one of them had to win, but both put up a good fight!
Our summer program brought 10 weeks jam-packed with sailing. We started off right at our Lakefront Open House (always the first Saturday in June) where we held our first-ever SYSC Rummage Sale and took nearly 100 people on free family sails in the harbor. After that, we welcomed in our newest community partners, Random Lake School District, for a few weeks of summer school sailing, and Mead Public Library's Pop-Up Play Group. As is tradition, we had a fantastic showing in the Independence Day Parade as well as at the Kaszube Cup at South Shore Yacht Club, where two of our Race Team teams finished 2nd and 3rd. We held two weeks of Siebel Sailors Camps, one of which was a girls-only week, where female instructors mentored and empowered a group of young girls to be strong sailors, leaders, and people. We had multiple staff members compete in some big-boat sailing, logging several hundred miles in just a few short weeks! We hosted over 120 sailors from the Kohler Experiential Learning Center, had over 60 adult sailors signed up for lessons, and rounded the season off with an amazing Luau-themed Bust Up Party! Major shout-out to all of the parents who helped make that happen.
We had an amazing fall season - after a brief cold snap in October, it warmed up to 70 degrees in November! Our team made it to eight regattas, had a few top 5 finishes, won a few races, and finished in the top 10 for the first time ever at the Great Lakes Championship, which is a regional championship that teams must qualify for to compete in. We had sailors from North High, Kohler, Etude, Horace Mann, LCA, and more this semester. We also enjoyed some serious fun racing Sonars with our Lakefront partners, SEAS.
Every season at SYSC flies by faster than the last (or maybe I'm just getting old), but this year brought with it some great moments spent with even better people. Some quick math tells some of the tale – we
taught over 8,000 hours of lessons to almost 500 different people this year! We launched our new Support Our Sailors (S.O.S.) Fund, which exists to provide financial assistance to sailors who may not
otherwise be able to experience all our lakefront has to offer. We wrapped up our final year of the first cycle in the Siebel Sailors Program – a grant project through US Sailing that provided us with six new RS Fevas (the chartreuse sails you see out there all summer long), staff training and support, and additional resources to increase our outreach into the community. We had a dedicated and enthusiastic group of
adult sailors, several of whom have since joined SYC and several more of whom sailed in the evenings into November. Most importantly, we continued to focus on our core tenets – safety, fun, and learning –
which help us to grow a strong community of students, staff, parents, friends, and supporters.
There is no proper way to thank all of the people who help to make SYSC the place it is, but here is a try! A huge shoutout to our Board of Directors, who work vigilantly to make sure SYSC has all of the support it needs. Thank you to the parents who bring their kids to the lakefront, volunteer their time and support, and work with us to keep our facility ship-shape. An enormous thank you must go to our friends at SEAS and SYC, they see our day-to-day and are there to support us in expertise, equipment, hot chocolate, and more. Without our donors, none of this would be possible, so thank you to everyone who has supported us this year and in year's past - it takes the support of passionate, enthusiastic, and amazingly generous people who believe in our mission to keep our sails up. And finally, thank you to our staff! They go above and beyond and work so hard to deliver their best work to the students at SYSC - we are proud to have such a great group of role models representing us.
Related Posts