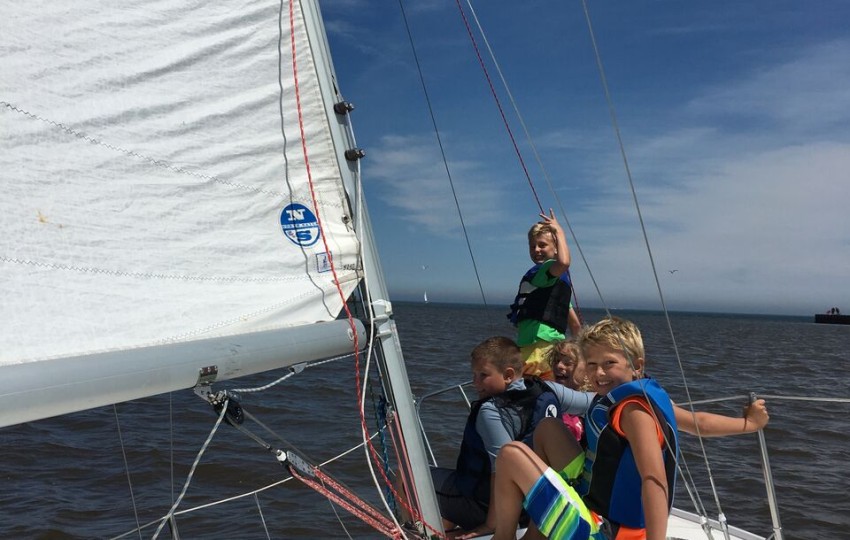 Inspired by a long-time fan of youth sailing who simply didn't want to race around buoys or tack and gybe at the sound of a whistle, Adventure Sailing is quickly becoming the most popular class we have to offer.
Open to youth sailors who have been through at least one of our beginner courses (or equivalent), this new class is geared toward young sailors who want to sail for fun and takes the emphasis away from learning to race. It also focuses on getting young sailors to experience a wide variety of different ways to enjoy the water. Over the course of the four weeks of Adventure Sailing this summer, sailors spent time on SYSC's two J24s, 420s, O'Pen Bics and spent their inclement sailing weather days on the beach enjoying our new stand-up paddleboards.
The class enables SYSC to fill a niche that we previously only filled on Free Sail Fridays - young sailors looking to enjoy sailing and Lake Michigan who are either looking for a break from racing or are not interested in competing. Sailors in the Adventure Sailing course learn confidence and seamanship through experiencing a wide variety of types of boats. The instructors apply learn-to-sail techniques in unique ways, using point-to-point trips to learn sail trim and points of sail, water toys to do person-in-the-water drills, capsize races to learn boat handling and safety and so much more. 
Adventure Sailing promotes companionship between both sailors and instructors, safety and seamanship and a lifelong love of simply being on the water with friends. We are pleased to offer this class and look forward to expanding its curriculum in the years to come!
---
Related Posts